During the 2021 Virtual Skin of Color Update conference, Dr. Valerie Callender, a well-known leader, pioneer in dermatology, and expert in the field of skin of color,  introduced us to scarring alopecia. The title of her talk says it all: "Central Centrifugal Cicatricial Alopecia (CCCA) and Androgenetic Alopecia (AGA): Diagnostic and Treatment Approaches."
To spoil the party, here are the most important "pro-tips" that I learned from Dr. Callender:
The patient should not leave your exam room without knowing exactly what diagnosis they have.
To treat scarring alopecias, we have to slow down the progression of permanent destruction of the pilosebaceous unit (target the inflammation, then promote hair regrowth).
CCCA has a genetic component: individuals may be predisposed to fibroproliferative disorders.
Key Concept #1: Know the impact of hair loss
"The doctor just said I have hair loss."
This is not acceptable (especially for a dermatologist). Hopefully we can empower our patients by providing them with a formal diagnosis, not just "alopecia."
A proper diagnosis allows us to formulate an appropriate plan for treatment and provide disease-specific patient counseling.
The quality-of-life impact of hair loss is major. The psychosocial sequelae associated with hair loss is even more profound in women, especially those who are younger or have scarring alopecias1. Nailing the diagnosis and starting treatment early is essential to mitigating this impact.
Key Concept #2: Identify the types of scarring alopecias, so we can treat appropriately
We like to classify scarring alopecias based on the predominant inflammatory infiltrate. It is important to identify the type of scarring alopecia so that we can appropriately slow down the progression of permanent destruction of the pilosebaceous unit.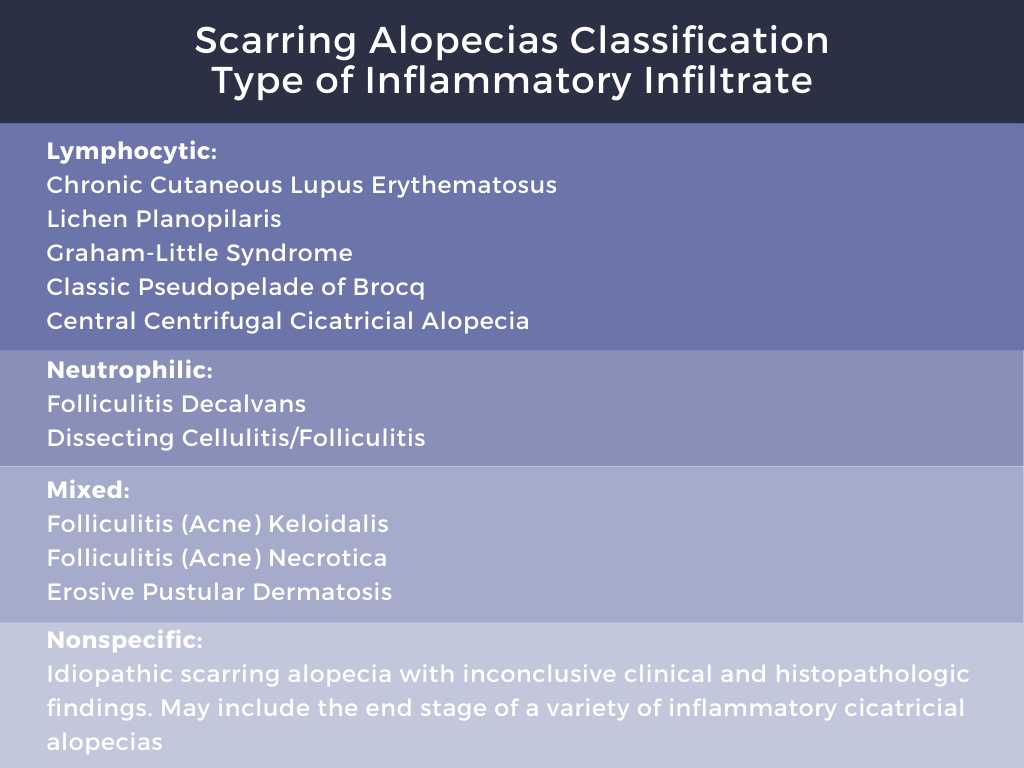 Although there is a long list of scarring alopecias as outlined above, the focus of Dr. Callender's talk was CCCA and androgenetic alopecia.
Key Concept #3: identify the presenting symptoms and risk factors for CCCA
CCCA is a common form of hair loss in women of color. It results in permanent scarring alopecia of the scalp, often starting on the vertex of the scalp and progressing over time. The prevalence ranges from 2.7-5.6%2. The etiology is idiopathic and multifactorial, but we now think there may be a genetic component to it as well as association with hair grooming practices.
What's new about CCCA risk factors?
Genetics may play a role.
We need to ask about a family history of CCCA and fibroproliferative disorders
A Variant of PADI3 has been associated with CCCA3. PADI3 is an enzyme that modifies proteins that are essential for hair shaft formation. A 2019 study demonstrated that the prevalence of a PADI3 variant was higher in CCCA patients compared to controls. This is an autosomal dominant condition.
To further support a genetic role in CCCA, Dr. Aguh and colleagues at Johns Hopkins demonstrated that fibroproliferative genes are preferentially expressed in CCCA4. These genes included platelet derived growth factor (PDGF), Collagen I, Collagen III, and Matrix metallopeptidase 1,2,7, and 9. A different study from Dr. Aguh and colleagues demonstrated that black women with CCCA had 5X increased risk of uterine leiomyomas compared to race, age, and sex-matched controls5.
These findings suggest that we need to screen our patients for a personal and family history of fibroproliferative disorders, such as pulmonary and hepatic fibrosis and uterine fibroids.
What do we know about presenting symptoms of CCCA?
There can be NO presenting symptom:
Some patients are asymptomatic and rely on their stylists to let them know if something is wrong with their scalp.
Some key symptoms of CCCA include: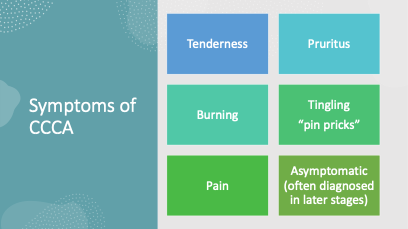 Key SIGNS (physical exam findings) of CCCA include: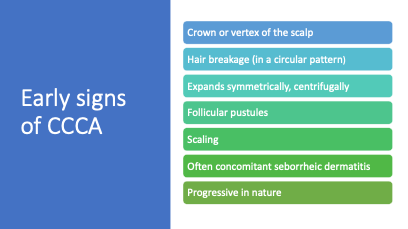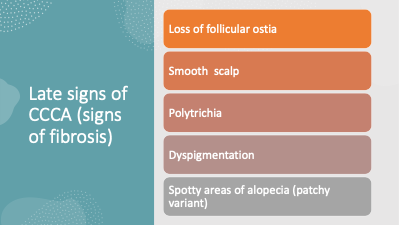 Diagnostic Tips:
Hair breakage can be a sign of early or occult CCCA. "It's not just due to hair relaxer or hair styling.6"
Hair breakage in a circular pattern on the vertex of the scalp should be a red flag.
CCCA can occur in males: screen them for symptoms or clinical signs of inflammation and perform a biopsy when indicated.
Patchy variant of CCCA: spotty areas of scarring alopecia7. Don't miss this finding.
Androgenetic alopecia (AGA) is STILL the most common form of hair loss in women, regardless of race. A patient can present with both CCCA and AGA.
Dermoscopy is a very helpful tool to diagnose CCCA (even to prevent a biopsy)
On dermoscopy look for8:
-Scale
-Peripilar white/gray halo around hairs (diagnostic for CCCA)
-Erythema
-Hair shaft variability (often associated with AGA as well)
Key Concept #4: How do we treat CCCA?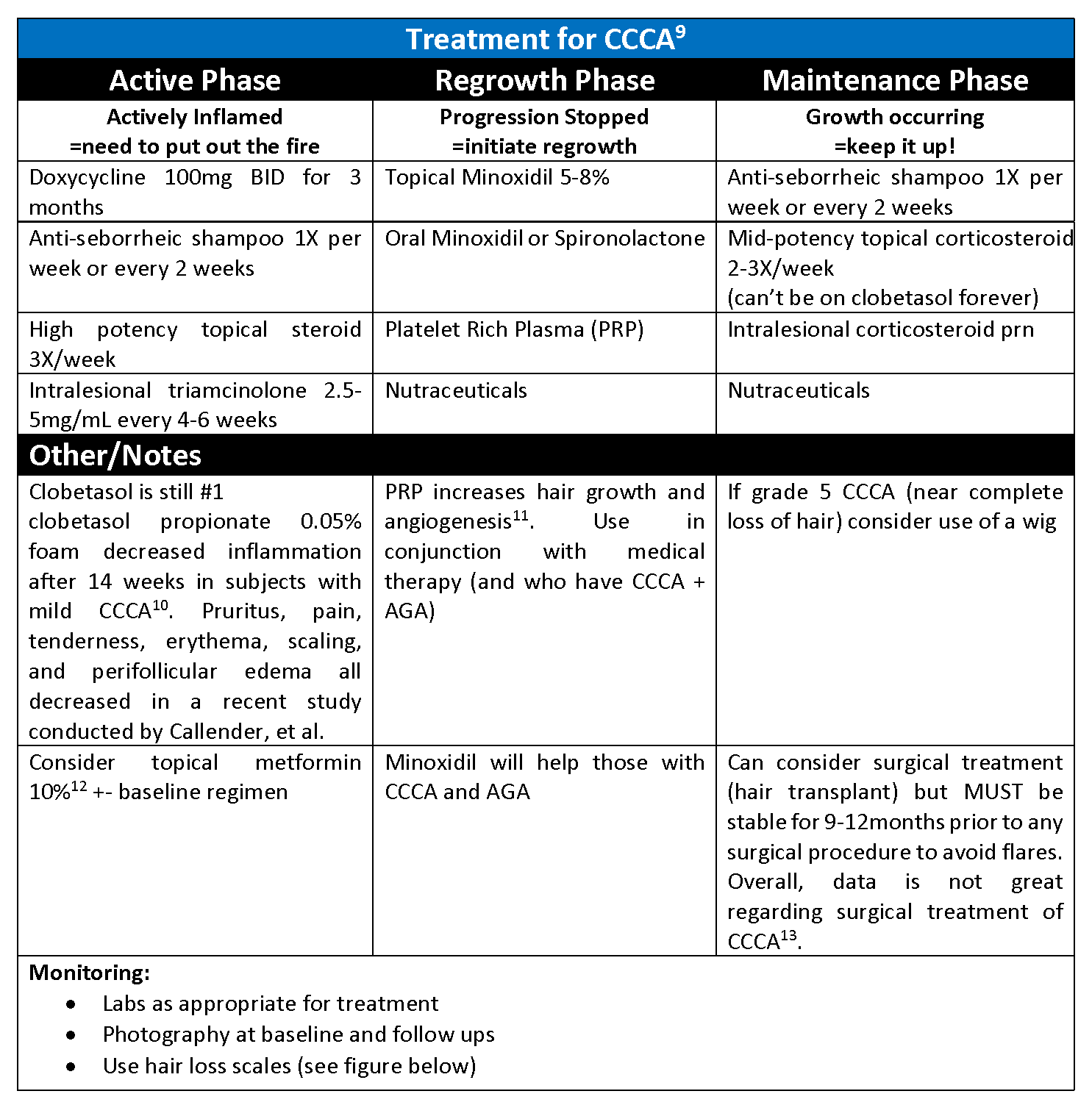 Key Concept #5: Discuss hair styling practices9
"Go Natural!"
Natural hairstyles avoid chemical and thermal damage as well as trauma, such as traction.
See the figure below.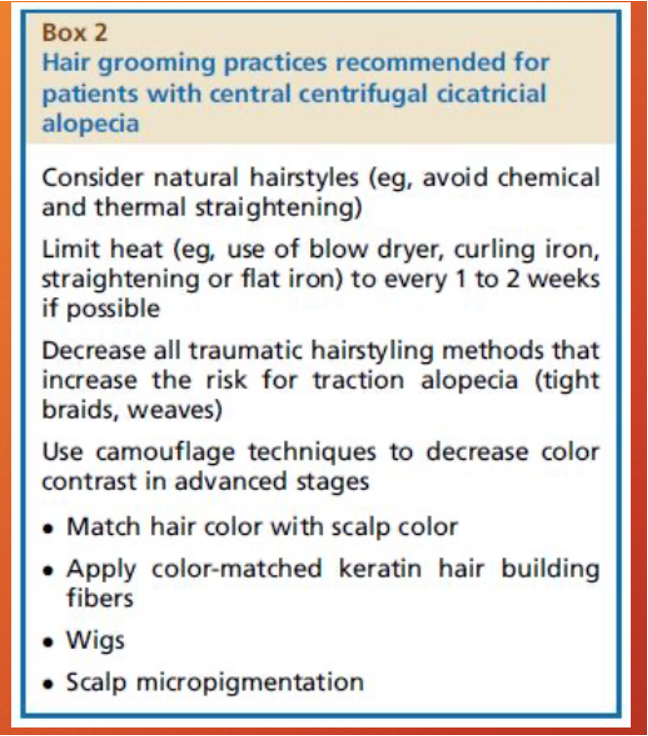 Key Concept #6: Key tips for differentiating CCCA vs AGA (or both)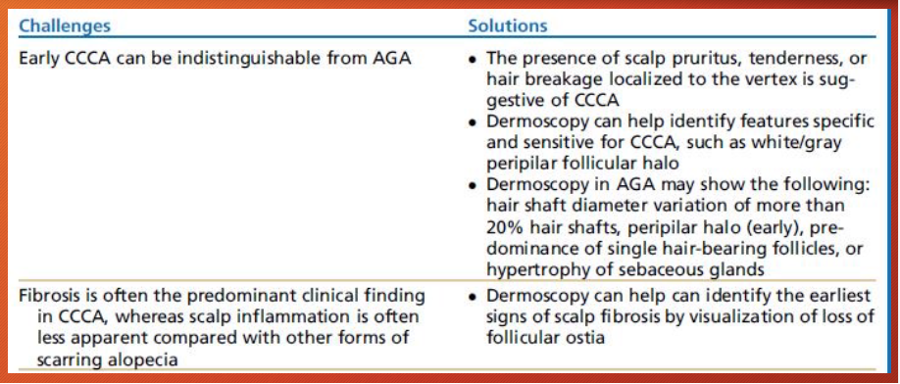 Last impressions, courtesy of the wondrous Dr. Callender:
"We can monitor, treat, and control inflammatory conditions. Our patients are devastated, and we can help! Make sure to show empathy."
That's all folks! Please share your comments at the end of this post and on Instagram @nextstepsinderm!
References
Katoulis AC, Christodoulou C, Liakou AI, Kouris A, Korkoliakou P, Kaloudi E, Kanelleas A, Papageorgiou C, Rigopoulos D. Quality of life and psychosocial impact of scarring and non-scarring alopecia in women. J Dtsch Dermatol Ges. 2015 Feb;13(2):137-42. English, German. doi: 10.1111/ddg.12548. Epub 2015 Jan 16. PMID: 25597233.
Callender VD, Onwudiwe O. Prevalence and etiology of central centrifugal cicatricial alopecia. Arch Dermatol. 2011 Aug;147(8):972-4. doi: 10.1001/archdermatol.2011.205. PMID: 21844458.
Malki L, Sarig O, Romano MT, Méchin MC, Peled A, Pavlovsky M, Warshauer E, Samuelov L, Uwakwe L, Briskin V, Mohamad J, Gat A, Isakov O, Rabinowitz T, Shomron N, Adir N, Simon M, McMichael A, Dlova NC, Betz RC, Sprecher E. Variant PADI3in Central Centrifugal Cicatricial Alopecia. N Engl J Med. 2019 Feb 28;380(9):833-841. doi: 10.1056/NEJMoa1816614. Epub 2019 Feb 13. PMID: 30763140.
Aguh C, Dina Y, Talbot CC Jr, Garza L. Fibroproliferative genes are preferentially expressed in central centrifugal cicatricial alopecia. J Am Acad Dermatol. 2018 Nov;79(5):904-912.e1. doi: 10.1016/j.jaad.2018.05.1257. Epub 2018 Jun 18. PMID: 29913259; PMCID: PMC6348462.
Dina Y, Okoye GA, Aguh C. Association of Uterine Leiomyomas With Central Centrifugal Cicatricial Alopecia. JAMA Dermatol. 2018 Feb 1;154(2):213-214. doi: 10.1001/jamadermatol.2017.5163. PMID: 29282458; PMCID: PMC5839278.
Callender VD, Wright DR, Davis EC, Sperling LC. Hair breakage as a presenting sign of early or occult central centrifugal cicatricial alopecia: clinicopathologic findings in 9 patients. Arch Dermatol. 2012 Sep;148(9):1047-52. doi: 10.1001/archdermatol.2011.3428. PMID: 22986858.
Miteva M, Tosti A. Central Centrifugal Cicatricial Alopecia Presenting with Irregular Patchy Alopecia on the Lateral and Posterior Scalp. Skin Appendage Disord. 2015 Mar;1(1):1-5. doi: 10.1159/000370315. Epub 2015 Jan 7. PMID: 27172374; PMCID: PMC4857853.
Miteva M, Tosti A. Dermatoscopic features of central centrifugal cicatricial alopecia. J Am Acad Dermatol. 2014 Sep;71(3):443-9. doi: 10.1016/j.jaad.2014.04.069. Epub 2014 Jun 11. PMID: 24929886.
Lawson CN, Bakayoko A, Callender VD. Central Centrifugal Cicatricial Alopecia: Challenges and Treatments. Dermatol Clin. 2021 Jul;39(3):389-405. doi: 10.1016/j.det.2021.03.004. Epub 2021 May 15. PMID: 34053593.
Callender VD, Kazemi A, Young CM, Chappell JA, Sperling LC. Safety and Efficacy of Clobetasol Propionate 0.05% Emollient Foam for the Treatment of Central Centrifugal Cicatricial Alopecia. J Drugs Dermatol. 2020 Jul 1;19(7):719-724. doi: 10.36849/JDD.2020.5201. PMID: 32726554.
Alves R, Grimalt R. A Review of Platelet-Rich Plasma: History, Biology, Mechanism of Action, and Classification. Skin Appendage Disord. 2018 Jan;4(1):18-24. doi: 10.1159/000477353. Epub 2017 Jul 6. PMID: 29457008; PMCID: PMC5806188.
Araoye EF, Thomas JAL, Aguh CU. Hair regrowth in 2 patients with recalcitrant central centrifugal cicatricial alopecia after use of topical metformin. JAAD Case Rep. 2020 Jan 22;6(2):106-108. doi: 10.1016/j.jdcr.2019.12.008. PMID: 32016152; PMCID: PMC6992882.
Ekelem C, Pham C, Atanaskova Mesinkovska N. A Systematic Review of the Outcome of Hair Transplantation in Primary Scarring Alopecia. Skin Appendage Disord. 2019 Feb;5(2):65-71. doi: 10.1159/000492539. Epub 2018 Sep 5. PMID: 30815438; PMCID: PMC6388556.
Olsen EA, Callender V, Sperling L, McMichael A, Anstrom KJ, Bergfeld W, Durden F, Roberts J, Shapiro J, Whiting DA. Central scalp alopecia photographic scale in African American women. Dermatol Ther. 2008 Jul-Aug;21(4):264-7. doi: 10.1111/j.1529-8019.2008.00208.x. PMID: 18715296.
Fabbrocini, Gabriella & Cantelli, M. & Masarà, A. & Annunziata, Maria Carmela & Marasca, Claudio & Cacciapuoti, Sara. (2018). Female pattern hair loss: A clinical, pathophysiologic, and therapeutic review. International Journal of Women's Dermatology. 4.10.1016/j.ijwd.2018.05.001.
Kasprzak M, Sicińska J, Sinclair R. The Trichoscopy Derived Sinclair Scale: Enhancing visual assessment through quantitative trichoscopy. Australas J Dermatol. 2019 May;60(2):134-136. doi: 10.1111/ajd.12964. Epub 2018 Dec 18. PMID: 30565210.
This information was presented by Dr. Valerie Callender at the 2021 Skin of Color Update virtual conference held on September 10-12-2021. The above highlights from her lecture were written and compiled by Dr. Jackie McKesey.
Did you enjoy this article? Find more on Skin of Color Dermatology here.