The topic of skin lightening can be very controversial, but the reality is that there is a large market for skin lightening and learning to treat patients in the safest way is the priority. At the 2019 Skin of Color Update, a lecture on skin lightening included panelists: Dr. Eliot Battle, Dr. Pearl Grimes, and Dr. Cheryl Burgess and featured their approaches to skin lightening.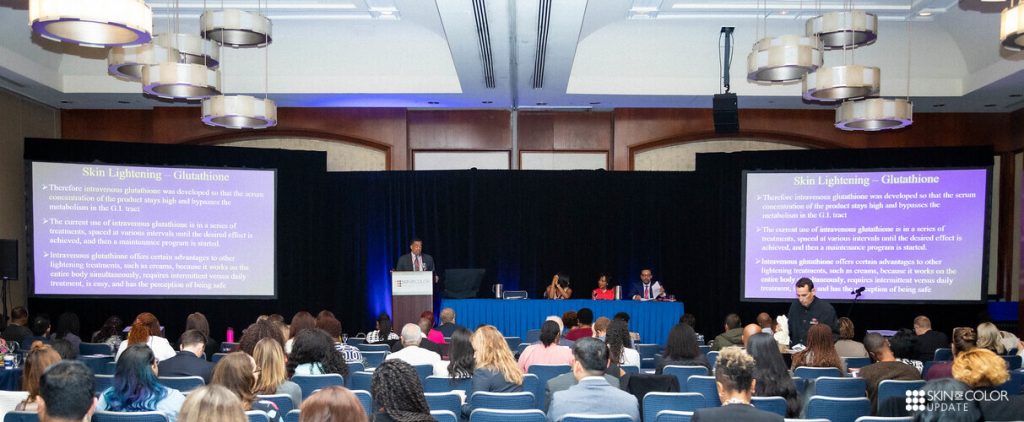 Skin Lightening is still very common
Skin Lightening is a global phenomenon and is used for the purposes of a lighter skin tone or an even skin tone as well as to treat pigmentary disorders such as melasma, vitiligo, or post-inflammatory hyperpigmentation. Dr. Battle mentioned how global spending on skin lightening is projected to triple to 31.2 billion by 2024 with the biggest markets in East Asia, Asia Pacific, and Africa. For example, in Nigeria, 77% of the country's women use skin-lightening agents compared to 59% in Togo and 27% in Senegal. There are historical and cultural reasons for the desire to be a lighter skin tone that are still very present today.
Gold Standard is Hydroquinone (the work horse)
At the Skin of Color Update, all three panelists, Dr. Battle, Dr. Grimes, and Dr. Burgess mentioned that the current gold standard and work horse for skin bleaching is hydroquinone. They differed by what strength they used. Typically, 4% is prescription-strength but some of the panelists discussed that, in rare circumstances, they have treated patients with as high as 12%. The concerns for exogenous ochronosis was expressed as well as the likelihood of irritation with higher percentage formulations of hydroquinone. In addition, how long to keep patients on topical hydroquinone was continuously discussed, with recommendations ranging from 2-3 months to 6 months at a time.
New therapies on the horizon including, Cysteamine
Dr. Grimes' and Dr. Burgess' presentations both highlighted the mechanism of action of bleaching agents. Hydroquinone works as a tyrosinase inhibitor as does kojic acid, azelaic acid, resveratrol, etc. Even though hydroquinone is the workhorse, there are novel products that may soon replace hydroquinone. For example, a popular non-hydroquinone product is cysteamine which allows for tyrosinase and peroxidase inhibition and is derived from breast milk. Tranexamic acid allows for tyrosinase inhibition and is also anti-inflammatory. Glutathione is another non-hydroquinone product that is increasing in popularity. There were evidenced-based studies cited that showed that combination treatment is more effective than monotherapy with the combination of hydroquinone 4%, tretinoin 0.05%, and fluocinolone acetonide 0.01% or other variations.1
More research needs to be done on glutathione
Glutathione is described as a powerful antioxidant that is used to prevent damage to the cells. Glutathione's mechanism of action for skin lightening works by interfering with the production of melanin, which leads to skin lightening. Glutathione can be used orally, sublingually, topically, intravenously, and through a suppository. The oral form of glutathione is largely degraded in the GI tract without absorption. There have not been any large, long term studies to show the safety and efficacy of intravenous glutathione. However, there are known side effects of glutathione including damage to the kidney, liver, and nervous system.2 Despite this, there are medical spas in some of the major cities in the US offering IV glutathione as a treatment for skin lightening.3The FDA has written a consumer update citing that they have not approved any injectable drugs for skin whitening or lightening.4
Other topics relevant to skin lightening are sun protection, chemical peels, microdermabrasion, and lasers which were discussed briefly during the session. Skin lightening may be controversial, but the goal of keeping patients safe remains the priority. Dr. Burgess' ended her presentation with "Remember, all skin types are beautiful," and I will end with those same sentiments.
References
Rivas S, Pandya AG. Treatment of melasma with topical agents, peels, and lasers: an evidence-based review. Am J Clin Dermatology 2013: 14(5):359-76.
Dadzie OE. Unethical skin bleaching with glutathione. BMJ. 2016;354:i4386. doi: https://doi.org/10.1136/bmj.i4386.
Pattani A. A New Skin Lightening Procedure is Short on Evidence. NYT. 2017
S. Food and Drug Administration, Injectable Skin Lightening and Skin Bleaching Products May be Unsafe. https://www.fda.gov/consumers/consumer-updates/injectable-skin-lightening-and-skin-bleaching-products-may-be-unsafe
This information is a summary of the information presented by Drs. Pearl Grimes, Cheryl Burgess, and Eliot Battle during the panel "Skin Lightening: The Experts Weigh In" that took place during the 2019 Skin of Color Update conference held September 7-8 in New York City. The above highlights were written by Dr Lola Adekunle, PGY-2 dermatology resident at Howard University in Washington DC.
Did you enjoy this article? Find more on Skin of Color here.
Next Steps in Derm is brought to you by SanovaWorks.