Case Report and Pearls for Accurate Diagnosis – An Interview with the Author
During the 2018 Skin of Color Seminar Series (now the Skin of Color Update), approximately twenty posters could be seen hanging in the poster viewing area.  Each of these posters highlights novel and exciting research in skin of color. In one such poster, Dr. Monica Huynh and colleagues presented a case of the skin condition acanthosis nigricans mimicking melasma.   People with the skin disorder acanthosis nigricans, especially darker skin types
Case Report
The patient was a 45-year-old female with a pertinent past medical history of diabetes mellitus type 2.  They presented with discoloration of the cheeks for several years.  She had been treated previously with hydroquinone 4% with minimal improvement. Physical examination revealed brown-gray hyperpigmented, velvety, lichenified plaques on the lateral zygoma and hollow of the cheeks bilaterally as well as on the posterior neck.  Given the patient's clinical presentation and past medical history of diabetes mellitus, a diagnosis of acanthosis nigricans was made. The dermatology team initiated treatment with salicylic acid cleanser twice daily, hydroquinone 4% cream twice daily, and tretinoin 0.025% cream nightly. After 8 weeks, the patient was switched to triple combination cream with improvement in facial hyperpigmentation. Due to facial dryness, the cleansing regimen was changed to salicylic acid cleanser in the morning and mandelic acid cleanser plus toner in the evening.
Following the conference, I reached out to Dr. Huynh with several questions pertaining to her poster presentation.
Could you please elaborate on which clinical features allowed you and your team to diagnose the patient with acanthosis nigricans versus other causes of facial hyperpigmentation?  
The patient had a preceding diagnosis of melasma.  Melasma is characterized by light to dark brown hyperpigmented macules or patches. It can be distributed in three main distributions: centrofacial, malar, or mandibular. The patient presented with hyperpigmentation to the face, however, it had textural change and was noted to be a velvety lichenified plaque.  The pattern also involved the temples, zygomatic, and hollow of the cheeks. Other clinical clues were the additional involvement to her neck, obese physical habitus, and history of diabetes mellitus. This corresponded well to the reported description of facial acanthosis nigricans.
Other hyperpigmented disorders were considered such as post inflammatory hyperpigmentation and ochronosis from chronic hydroquinone use, however, the constellation of symptoms and associations were most consistent with facial acanthosis nigricans.
Additional Methods to Consider
What additional testing may be performed to differentiate between melasma and acanthosis nigricans? Would lab testing for HbA1c, cholesterol, TSH, etc. be useful?
A skin biopsy will show different histological features between melasma and acanthosis nigricans.  If acanthosis nigricans is suspected, endocrine workup should be considered to seek an associated endocrine etiology (e.g. adrenal glands).
In what clinical scenario would a punch biopsy of the lesion be indicated to differentiate AN from other causes of facial hyperpigmentation?
Due to the overlapping features of many hyperpigmented dermatoses, a skin biopsy may be indicated in order to make the diagnosis and guide treatment.
You mentioned in your poster that another useful tool would be Wood's Lamp examination. Could you elaborate on how Wood's Lamp would allow you to differentiate acanthosis nigricans from other causes of facial hyperpigmentation?
Wood's lamp is a great tool to help support a diagnosis, assess disease severity, and guide type of treatment such as topical versus laser therapy.  When there is epidermal pigment, it will be accentuated with Wood's lamp examination.  However, when there is dermal pigment, it will not be accentuated with Wood's lamp exam. This is helpful with distinguishing if the clinical manifestation is consistent with an etiology of epidermal versus dermal process. Acanthosis nigricans has mixed epidermal and dermal deposition of pigmentation.
Optimal Treatment
What is the optimal treatment regimen for facial hyperpigmentation due to acanthosis nigricans and how would it differ from the treatment of melasma?
When it comes to hyperpigmentation, the treatment approach should first begin with addressing the underlying cause. Acanthosis nigricans is associated with obesity and endocrine disorders.  Therefore, it is important to address these, if any, in order to ensure the best overall outcome.  We recommend doing this in collaboration with the patient's primary care physician (managing weight loss and type 2 diabetes). As for cutaneous treatment, although there is no standardized treatment regimen topical are the mainstay and similar to the treatment of melasma. This includes topical or oral retinoids, alpha/beta hydroxy acids, chemical peels, keratolytics, and corticosteroids. The patient benefited from the triple combination therapy (hydroquinone, retinoid, and steroid).  However, adding mandelic acid, which is a gentle alpha-hydroxy acid, expedited the process with minimal irritation.
Could you please share any additional tips on diagnosis and treatment of facial hyperpigmentation that may be helpful to early career dermatologists?
For a dermatologist at any stage of practice, a great approach is to pay close attention to the various hues, distribution of the lesions, and any relevant history (onset, medications, and response to treatment). A patient's response is highly individualized, so it is crucial to keep an open mind regarding diagnoses and treatment approaches. Because of this, the treatment course may need to change over time.
About Dr. Monica Huynh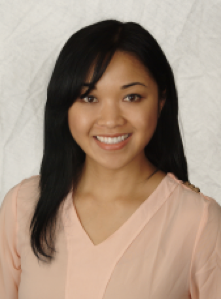 Dr. Monica Huynh is a native of the San Francisco Bay Area.  Shereceived a Bachelor of Arts in Integrative Biology at University of California, Berkeley.  She obtained her Doctorate of Osteopathic Medicine at Chicago College of Osteopathic Medicine. During her training, she completed a yearlong fellowship in psoriasis at the Psoriasis Research and Phototherapy Center with Dr. John Koo at University of California, San Francisco.  Upon completion of her medical degree, she did a Preliminary Medicine internship at University of Chicago NorthShore Health Systems in Evanston, IL.  She is currently a second-year dermatology resident at St Barnabas Hospital in Bronx, NY.  In her free time, she enjoys traveling both domestically and internationally.  She also enjoys experimenting with cooking, spending time with her boyfriend and dog, and trying out various fitness studios in New York City.
Did you enjoy this post?  Find others like it by clicking here!