In this month's installment of Therapeutic Cheat Sheet, we will review methotrexate and its use in dermatology. Methotrexate has been utilized as therapy for psoriasis and many other dermatologic conditions since its approval by the FDA in 1972.1 While an effective systemic agent for a multitude of dermatologic and non-dermatologic diseases, prescribers should be aware of the side effect profile as well as frequency of lab monitoring.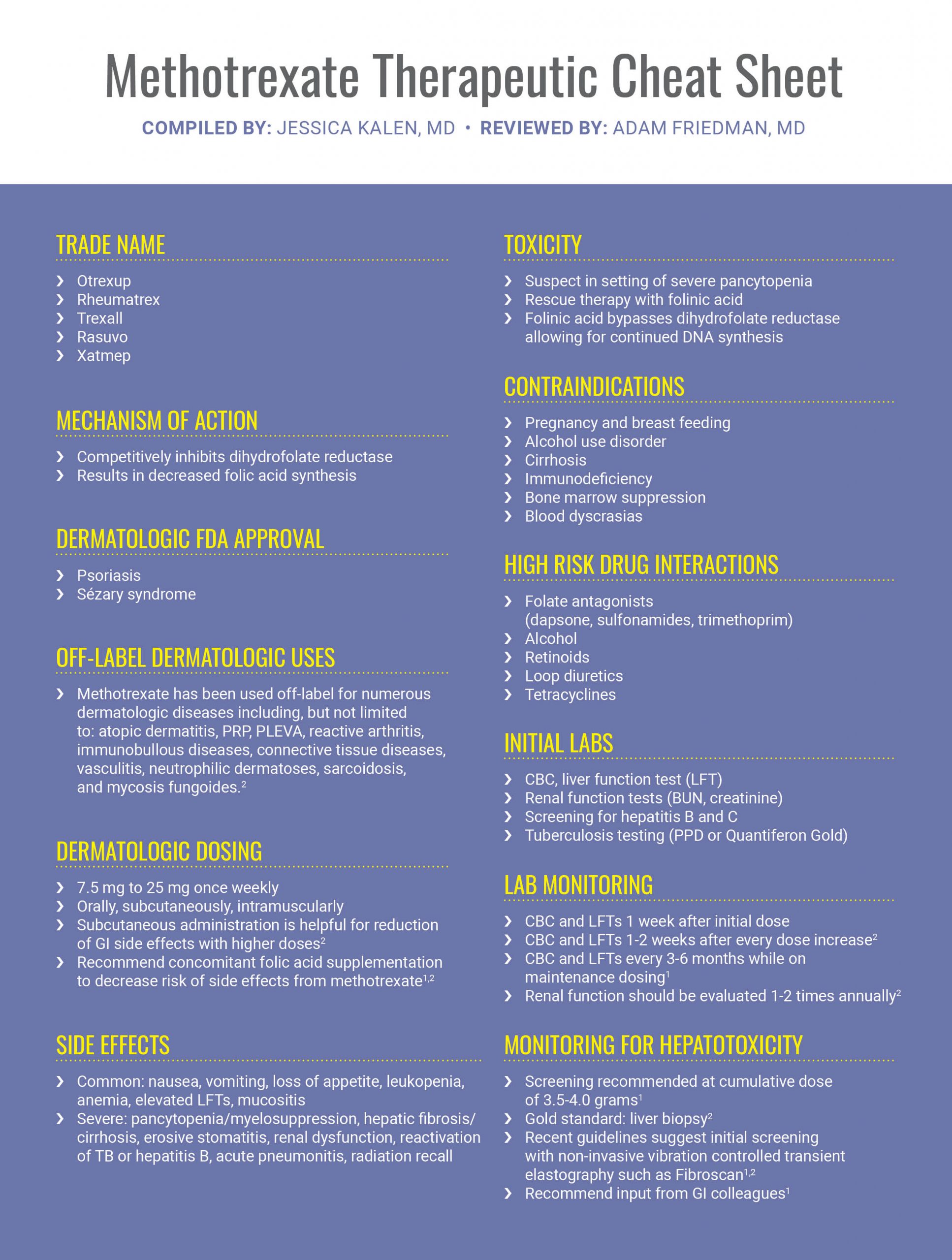 While methotrexate has fallen out of favor with the advent of newer biologics, such as TNF alpha inhibitors and interleukin inhibitors, it remains an effective therapy for patients who may prefer oral medication to a subcutaneous injection. If you would like to read more about methotrexate, below are 2 articles published in the Journal of Drugs in Dermatology.
Further Reading
If you would like to read more about Methotrexate and other therapies for Psoriasis, check out the following 2 articles published in the Journals of Drugs in Dermatology:
Psoriasis is a chronic, systemic disease with features suggestive of autoimmune dysregulation. Patients with psoriasis vulgaris frequently experience systemic comorbidities, including cardiovascular and metabolic diseases, and approximately 30% develop psoriatic arthritis (PsA), which requires treatment. It is important that physicians and patients are aware of the breadth of treatment options available to treat the complete spectrum of psoriasis manifestations. This narrative review summarizes clinical information from approved systemic psoriasis therapies relevant to the treatment of PsA and related systemic pathologies. We include pivotal clinical trials of biologic therapies that are approved by the US Food and Drug Administration for psoriasis and PsA and additional studies identified from PubMed and congress abstract searches through August 21, 2019. We comment on the real-world effectiveness of traditional nonbiologic treatment options, including methotrexate, cyclosporine, acitretin, systemic corticosteroids, and nonsteroidal anti-inflammatory drugs and consider targeted synthetic and biologic disease-modifying antirheumatic drugs and their efficacy and safety in treating skin and joint manifestations. Finally, we discuss key considerations when managing patients with PsA as a comorbidity of psoriasis. The individual treatment needs of patients should be met while psoriasis and its systemic complications are managed. When addressing these needs, it is important to consider modern biologics and other systemic therapies.
 
BACKGROUND: Oral methotrexate (MTX) has been a first-line systemic agent in the treatment of chronic plaque psoriasis (CPP) for more than 50 years. Parenteral MTX, administered as a subcutaneous (SC) injection has gained favour in recent years. The effectiveness of SC MTX has been proven in rheumatological conditions but there has been no assessment of its role in CPP.
METHODS: We retrospectively reviewed case notes of 85 patients prescribed SC MTX for psoriasis in three dermatology centres in the UK (Betsi Cadwaladr University Health Board, Western Infirmary, Glasgow, and Salford Royal NHS Foundation Trust). Audit department approval was sought and granted.
RESULTS: A total of 85 patients (44 male; 41 female; age range 14 – 78 years, mean 44 years; 79 Caucasian, 6 Asian) with CPP were identified. The average duration of psoriasis was 19 years [range 3 – 60 years]. Co-morbidities included depression, diabetes mellitus, hypertension, epilepsy, obesity, ischaemic heart disease, and hyperlipidaemia; 29 patients had no associated co-morbidities. Psoriatic arthritis was noted in 18 patients.
Previous treatments included phototherapy (both narrow band ultraviolet B [TLO1] and psoralen and ultraviolet A [PUVA])(n=60), oral MTX (n=82), ciclosporin (n=37), acitretin (n=19), fumaric acid esters (n=20), hydroxycarbamide (n=6), mycophenolate mofetil (n=2), and repeated in-patient admissions (n=2). Oral MTX was stopped due to nausea (n=43), ineffectiveness (n=13) or partial response (n=11), headache (n=3), increased liver enzymes (n=2), and lethargy (n=2). The median number of systemic agents used prior to SC MTX was 3 (mean 2.65, range 1 to 6 agents). The weekly dose of SC MTX varied between 7.5mg to 30mg (mean 18.5mg, median 20mg) and had been used for 2 months to 67 months (mean 14 months; median 9 months). Folic acid supplementation was used in every patient. The patients were reviewed between 6 weeks to 3 months once treatment was fully established. Using a pre-determined "adjective list" (where specific adjectives were used to denote those who responded or did not respond to treatment), patients were classified as "responders" (n=59) or "non-responders" (n=26).
CONCLUSION: This study suggests that SC MTX is an effective option in patients with CPP who have failed oral MTX and could be a worthwhile consideration prior to commencement of a biologic agent. Furthermore, the SC route may be a viable first choice of MTX administration. A randomised controlled trial comparing oral and SC MTX is required to validate these findings.
References
Menter A et al. Joint American Academy of Dermatology-National Psoriasis Foundation guidelines of care for the management of psoriasis with systemic nonbiologic therapies. J Am Acad Dermatol. 2020;82(6):1445-1486.
Wolverton SE. Comprehensive Dermatologic Drug Therapy, 4td Philadelphia. Elsevier.
Did you enjoy this Therapeutic Cheat Sheet? You can find more here.