During the 2021 virtual Skin of Color Conference, Dr. Meena Singh provided a terrific lecture about hair restoration with a focus on follicular unit transplantation and platelet-rich plasma (PRP) treatment.
Hair Transplantation
First, she introduced the topic by emphasizing that hair transplantation is based on theory of "donor dominance," which means hair that is transplanted should grow in the recipient area in the same way that it did in the donor area. The transplantation procedure is performed on an outpatient basis with low complication rate and high level of physician and patient satisfaction.
Non-scarring alopecia
In patients of African descent specifically, hair transplantation is most commonly performed for traction alopecia and central centrifugal cicatricial alopecia (CCCA). For traction alopecia, selection first involves choosing an area of scalp where hair does not typically re-thicken with typical medical therapies. Usually, this is determined after medical treatment for 8-9 months. Subsequently, areas which did not have regrowth can be targeted. Ongoing hair loss affects the final density and outcome as well, so this is another important reason medical therapy is attempted first. Other important considerations include: 1) donor density, as patients need to have sufficient hair to transplant into the weaker areas, and 2) caliber of hair follicles, as this can influence the hair density perceived by others.
The usual method of harvesting hair in patients with traction alopecia is strip excision. Elliptical donor harvesting involves: 1) scoring the ellipse with a 10-blade through the dermis and 2) retracting with skin hooks perpendicular to the length of the incision. This technique yields excellent visibility of and minimum transection of hair follicles. Bleeding is minimal. After the strip is taken out, graft dissection is performed. In curly hair, this involves curved slices performed by an experienced tech, as expertise is needed to navigate the 'C' shaped curls under microscopy to avoid transection. The goal is also to maintain a sufficient amount of perifollicular tissue, which helps to maintain better growth. For the incision, the most commonly utilized instruments are #19 and #21 needles, which can be manipulated by hand. Slit incision is best performed under magnification. The slit incision technique of graft placement involves going along with the angle of the way the slits were made to allow sliding directly in. The field should be dry to avoid excessive bleeding which may cause the graft to pop out.
Scarring alopecia
Although hair transplantation considerations regarding anesthesia, graft creation, graft placement, and postoperative care are similar in patients with scarring alopecia, there are key differences to note. Important distinctions include candidate selection, managing patient expectations, donor harvesting, recipient site creation, and number of surgeries performed. In patients with CCCA, for example, the recipient area may have reduced blood supply and/or fibrotic scar tissue. Therefore, a test site is often performed first, observing 50-100 grafts over 9-12 months. Then, practitioners can perform smaller and lower density surgeries yearly until desired effect is reached. Patient expectations must be tempered during counseling, as treatment courses tend to be lengthy. In some cases, the donor area might be scarred as well, and this decreases effectiveness of the procedure. In terms of the recipient area, inflammation should be minimal for at least one year before hair transplant is considered. Vascular supply is often decreased as well, which can contribute to decreased graft survival. In addition to using test spots, we can attempt to increase blood supply by using 2-5% minoxidil topically 1 week pre-operatively or pentoxypylline 400mg 2 weeks pre-operatively. Deeper incisions are needed in the case of hypertrophic scars. For atrophic scars, incisions at more acute angles with less subcutaneous fat are useful.
Caution
It is important to confirm hair transplant patients do not have an inflammatory scarring hair loss, as transplanting into these areas will cause loss of the grafts.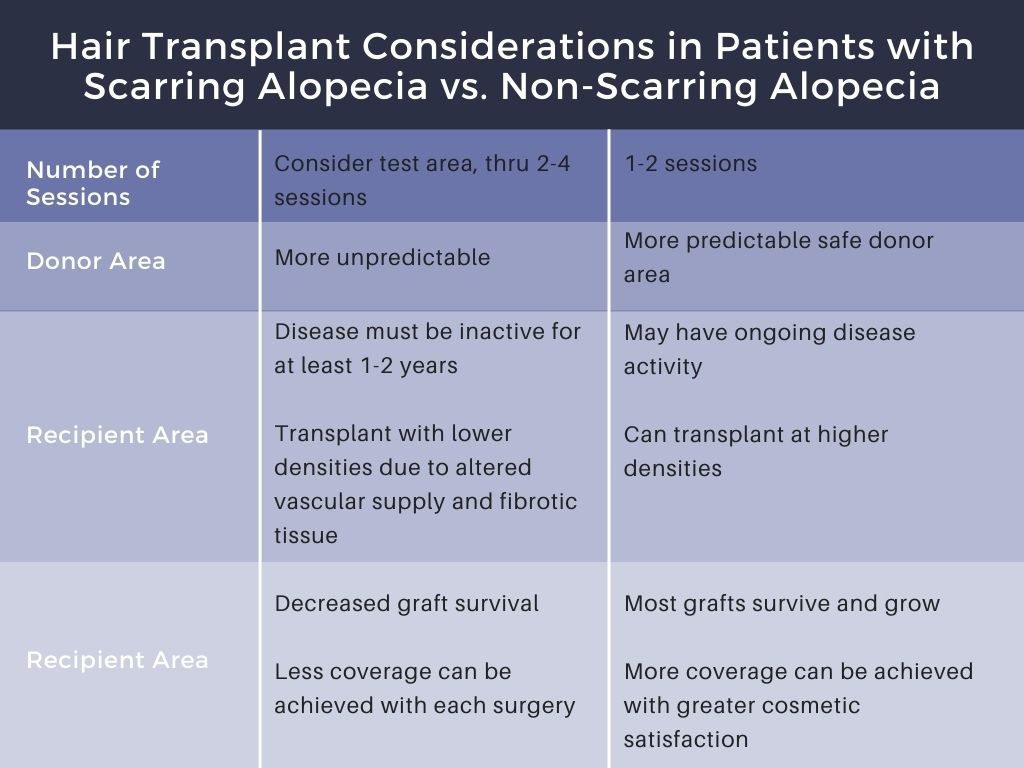 Platelet-Rich Plasma
Platelets are active in wound healing and release important factors including platelet-derived growth factor (PDGF), transforming growth factor-β (TGF-β), and vascular endothelial growth factor (VEGF) when activated. PRP treatment involves scalp injections of autologous concentrated (4-7%) platelets in small volume of plasma. The platelets are hyper-concentrated, and occasionally activated to release the growth factors prior to injecting. Sometimes PRP treatment can be combined with medical therapy to prevent against needing hair transplant. Evidence suggests that PRP may be useful for male-pattern hair loss.1 Although mixed evidence supports the role of PRP in treatment of alopecia areata, anecdotal reports have suggested some utility in alopecia areata patients failing intralesional steroids.2-4
Stem Cell Based Therapies
Activation of hair follicle stem cells is pivotal in stimulating hair regrowth. Potentially useful new agents aim to modify and enhance signaling pathways, thereby inducing hair follicle stem cell reactivation, hair cycle, and hair follicle regeneration. First, multipotent stem cells are transplanted from a source, such as unaffected hair follicles, adipose tissue, bone marrow, or umbilical cord blood. Application of stem-cell derived conditioned media may be implemented. Lastly, application of stem-cell derived exosomes can be used. These exomes are cell-derived nanovesicles which signal to neighboring cells while retaining certain biological properties of their parent cells. They can modulate proliferation, differentiation, migration, and cell death. They are obtained from various sources with varying properties. Laser-assisted growth factor delivery is another newer treatment. This involves a laser making microscopic trauma to the area of interest, then growth factors are applied to the area.5
 Microneedling
There is evidence that microneedling in conjunction with these bio-regenerative therapies can be more effective than doing it alone.6 This technique increases release of certain growth factors (PDGF, EGF, are released) by way of platelet activation and skin wound regeneration. Activation of stem cells in the hair bulge area under wound healing conditions leads to overexpression of hair growth related genes VEGF, β-catenin, Wnt3a, Wnt10b).7,8
Gupta AK, Cole J, Deutsch DP, Everts PA, Niedbalski RP, Panchaprateep R, Rinaldi F, Rose PT, Sinclair R, Vogel JE, Welter RJ. Platelet-rich plasma as a treatment for androgenetic alopecia. Dermatologic Surgery. 2019 Oct 1;45(10):1262-73.
Shumez H, Prasad PV, Kaviarasan PK, Deepika R. Intralesional platelet rich plasma vs intralesional triamcinolone in the treatment of alopecia areata: a comparative study. International Journal of Medical Research & Health Sciences. 2015;4(1):118-22.
Donovan J. Successful treatment of corticosteroid-resistant ophiasis-type alopecia areata (AA) with platelet-rich plasma (PRP). JAAD case reports. 2015 Sep;1(5):305.
Trink A, Sorbellini E, Bezzola P, Rodella L, Rezzani R, Ramot Y, Rinaldi F. A randomized, double‐blind, placebo‐and active‐controlled, half‐head study to evaluate the effects of platelet‐rich plasma on alopecia areata. British Journal of Dermatology. 2013 Sep;169(3):690-4.
Bertin AC, Vilarinho A, Junqueira AL. Fractional non-ablative laser-assisted drug delivery leads to improvement in male and female pattern hair loss. Journal of Cosmetic and Laser Therapy. 2018 Nov 17;20(7-8):391-4.
Jha AK, Vinay K, Zeeshan M, Roy PK, Chaudhary RK, Priya A. Platelet‐rich plasma and microneedling improves hair growth in patients ofandrogenetic alopecia when used as an adjuvant to minoxidil. Journal of cosmetic dermatology. 2019 Oct;18(5):1330-5.
Jeong K, Lee YJ, Kim JE, Park YM, Kim BJ, Kang H. Repeated microneedle stimulation induce the enhanced expression of hair-growth-related genes. Int J Trichology. 2012; 4;117.
Kim BJ, Lim YY, Kim HM, Lee YW, Won CH, Huh CH, et al. Hair follicle regeneration in mice after wounding by microneedle roller. Int J Trichology. 2012;4:117.
This information was presented by Dr. Meena Singh at the 2021 Skin of Color Update virtual conference held on September 10-12, 2021. The above highlights from her lecture were written and compiled by Dr. Azam Qureshi.
Before and after patient images courtesy of Dr. Meena Singh.
Did you enjoy this article? You can find more on Skin of Color here.