Tapinarof cream is a non-steroidal topical medication that was recently FDA approved in 2022 for the treatment of mild, moderate, or severe plaque psoriasis in adult patients. As biologic medications have continued to grow and become exceedingly present in the treatment of moderate to severe psoriasis, there has been very minimal, if any innovation in the space of topical treatments. Additionally, with a recently completed phase 3 trial, there are promising results to extend tapinarof's use to other skin conditions, such as atopic dermatitis. We continue our series, Therapeutic Cheat Sheet, with a closer look at topical tapinarof.
Tapinarof Therapeutic Cheat Sheet
Compiled by: Adam Rosenfeld MD | Reviewed by: Adam Friedman, MD
TRADE NAME
GENERIC DOSAGE FORM
MECHANISM OF ACTION
Tapinarof is a topical aryl hydrocarbon receptor (AhR) agonist, or modulating agent indicated for the treatment of adult patients with plaque psoriasis
The AhR ligand dependent transcription factor helps regulate gene expression in immune and skin cells and has a critical role in skin homeostasis
Important effects of tapinarof include down regulation of proinflammatory cytokines, including IL-17 as well as regulation of skin barrier protein expression
Tapinarof therefore acts as both an anti-inflammatory as well as helping to promote skin barrier normalization; both crucial in minimizing the effects the pathophysiology of psoriasis
Additionally, tapinarof has been found to have antioxidant activity 
FDA-APPROVED USE
Approved for mild, moderate or serve plaque psoriasis in adults with no restrictions in duration of use or body surface area 
OFF-LABEL USES
DOSING
Apply a thin layer of VTAMA 1% cream to affected areas once daily (was studied only with use up to 12 weeks, however it can be safely used for longer)
Each gram of VTAMA cream contains 10mg of tapinarof
VTAMA cream is not for oral, ophthalmic or intravaginal use
SIDE EFFECTS ASSOCIATED
In the PSOARING 1 and PSOARING 2 VTAMA clinical trials, adverse reactions were as below:

Folliculitis (20%)
Nasopharyngitis (11%)
Contact dermatitis (7%)
Headache (4%)
Pruritus (3%)
Influenza (2%)
In an open label safety trial (PSOARING 3), urticaria (1.0%) as well as drug eruptions (0.7%) were also reported
No serious reactions have been reported
WARNINGS
Avoid VTAMA if you have a hypersensitivity to the drug or active ingredient
CONTRAINDICATIONS
PREGNANCY
There is insufficient data on VTAMA use in pregnant women to evaluate for a drug associated risk of major birth defects, miscarriage of other adverse maternal or fetal outcomes
In animal reproduction studies, subcutaneous administration of tapinarof to pregnant rats and rabbits during the period of organogenesis resulted in signina adverse effects at doses 268 and 16 times the maximum recommended human dose
MONITORING
No routine tests recommended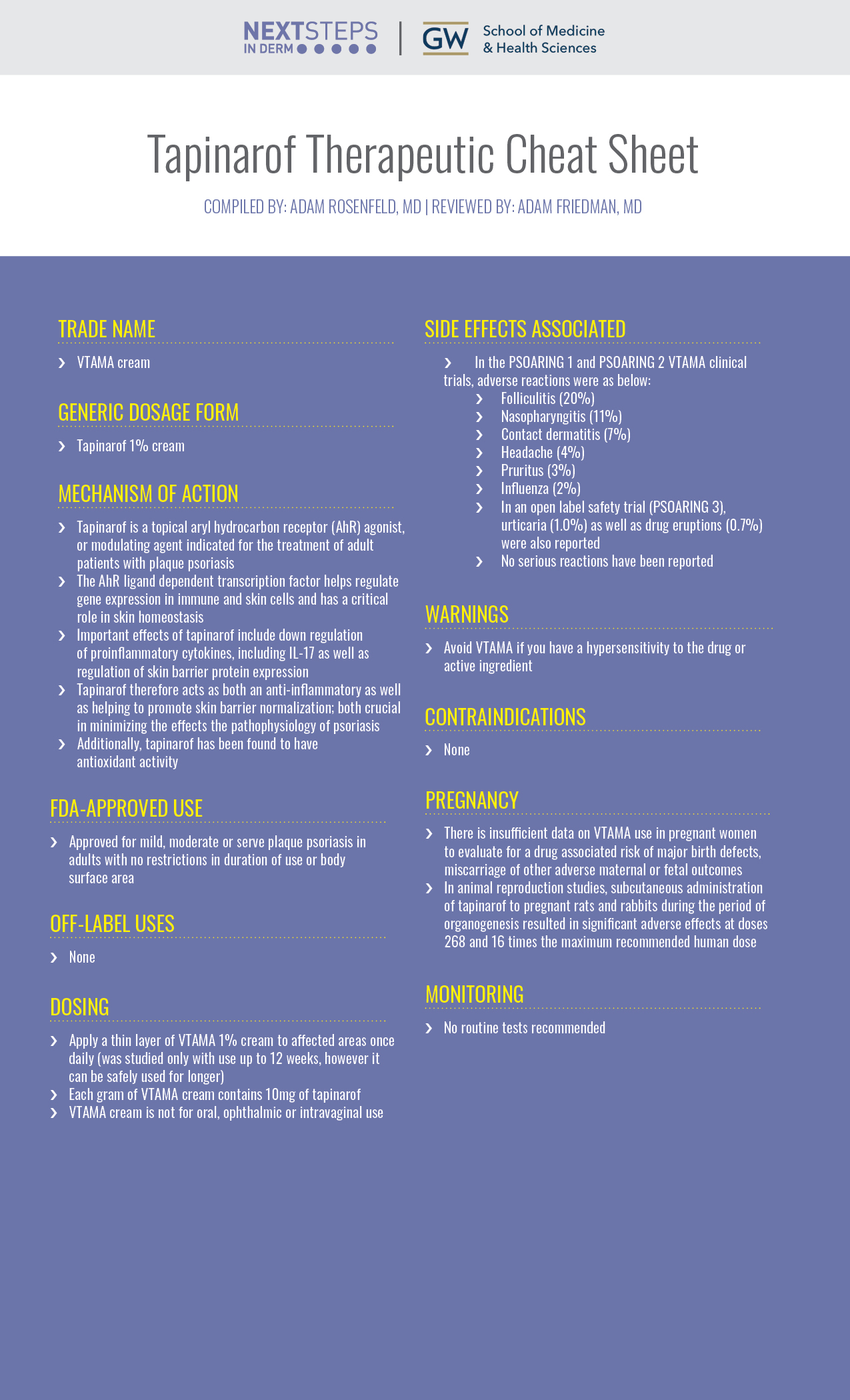 CONCLUSION
Overall, tapinarof cream has been shown to be a safe and effective treatment of plaque psoriasis in adult patients. The safety in patients under the age of 18 has yet to be determined. It is the first novel topical agent launched in the treatment of psoriasis in the last 25 years. Tapinarof is a non-steroidal medication and is safe to apply to any skin surface, including sensitive areas without worry of side effects. Although it is new to the market and its ultimate place within psoriasis are yet to be determined, these two features, along with its effectiveness make it a welcomed addition. Lastly, there have been promising clinical trials to evaluate its use in other conditions, including atopic dermatitis which provides excitement about its potential to help patients with skin disease other than psoriasis.
FURTHER READING
Dermal Safety of Tapinarof Cream 1%: Results From 4 Phase 1 Trials
ABSTRACT
Background: Tapinarof (VTAMA®; Dermavant Sciences, Inc.) is a novel, non-steroidal, topical, aryl hydrocarbon receptor agonist, FDA approved for psoriasis treatment and under investigation for atopic dermatitis treatment as a 1% cream formulation for once-daily (QD) application.
Objective: Evaluate cumulative skin irritation, sensitization, and photoallergic and phototoxic potential of tapinarof cream 1% across a range of dosing frequencies and conditions.
Methods: We conducted 4 randomized, controlled, phase 1 trials of topical tapinarof cream 1% vs vehicle or other appropriate controls in healthy adults. Cumulative skin irritation was assessed following QD application for 21 days under fully occlusive patch conditions. Contact sensitization, photoallergenicity, and phototoxicity were assessed under semi-occlusive patch conditions. The contact sensitization and photoallergenicity trials used an induction phase of repeated applications followed by a 2-week rest period and a 1-time challenge, with rechallenge if responses indicated sensitization/photosensitization; the phototoxicity trial comprised a single application. Ultraviolet A and B irradiation was used to assess photoallergenicity/toxicity.
Results: 376 participants were randomized across the 4 trials. In the cumulative irritation trial, tapinarof cream 1% QD was classified as having a slight potential for very mild cumulative irritation under the exaggerated test conditions of repeated dosing for 21 days. There was no evidence of sensitization, photosensitization, or phototoxicity. Tapinarof was well tolerated and there was a low discontinuation rate across all trials.
Conclusions: Tapinarof cream 1% was well tolerated, non-sensitizing, non-phototoxic, and non-photoallergic, with no evidence of clinically meaningful cumulative skin irritation in 4 dermal safety trials in healthy adults.
Trial Registration: IND 104601
J Drugs Dermatol. 2022;21(10):1084-1090. doi:10.36849/JDD.6627R1
RESOURCES
Highlights of prescribing information. Revised 5/2022. Retrieved May 4, 2023, from https://www.accessdata.fda.gov/drugsatfda_docs/label/2022/215272s000lbl.pdf
Treat adult plaque psoriasis: VTAMA® (tapinarof) cream, 1%. vtama (tapinarof) cream 1%. (n.d.). Retrieved May 4, 2023, from https://www.vtama.com/
Lebwohl, M. G., Stein Gold, L., Strober, B., Papp, K. A., Armstrong, A. W., Bagel, J., Kircik, L., Ehst, B., Hong, H. C.-ho, Soung, J., Fromowitz, J., Guenthner, S., Piscitelli, S. C., Rubenstein, D. S., Brown, P. M., Tallman, A. M., & Bissonnette, R. (2021). Phase 3 trials of Tapinarof Cream for plaque psoriasis.New England Journal of Medicine,385(24), 2219–2229. https://www.nejm.org/doi/full/10.1056/NEJMoa2103629
4. Dermavant reports positive topline results from adoring 2 atopic dermatitis phase 3 trial of VTAMA® (tapinarof) cream, 1% once daily in adults and children as young as 2 years old. Business Wire. (2023, March 15). Retrieved May 4, 2023, from https://www.businesswire.com/news/home/20230315005395/en/Dermavant-Reports-Positive-Topline-Results-from-ADORING-2-Atopic-Dermatitis-Phase-3-Trial-of-VTAMA%C2%AE-tapinarof-Cream-1-Once-Daily-in-Adults-and-Children-as-Young-as-2-Years-Old
Did you enjoy this Therapeutic Cheat Sheet? You can find more here.