In this month's installment of our Therapeutic Cheat Sheet series, we explore a new topical approach to rosacea: ivermectin 1% topical cream (Soolantra).  This topical cream is a useful tool for combating rosacea in a multimechanistic way.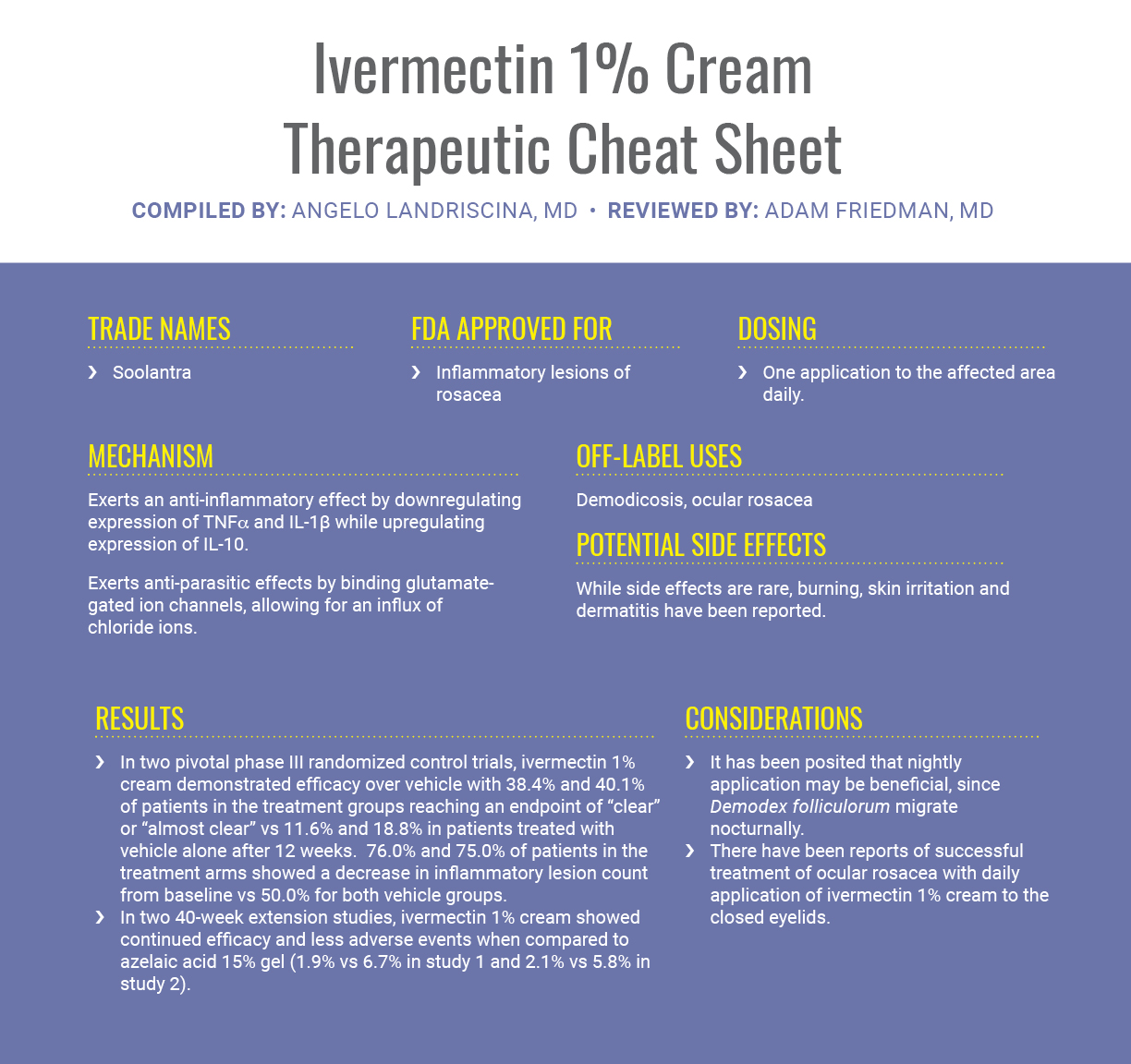 Click image to enlarge
Further Reading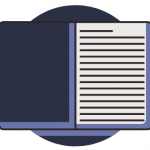 Efficacy and Safety of Ivermectin 1% Cream in Treatment of Papulopustular Rosacea: Results of Two Randomized, Double-Blind, Vehicle-Controlled Pivotal Studies
BACKGROUND: Treatments for papulopustular rosacea (PPR) are limited.
OBJECTIVE: To demonstrate the efficacy and safety of once-daily ivermectin 1% cream in subjects with moderate to severe PPR.
METHODS: Two identically designed, randomized, double-blind, controlled studies of ivermectin 1% cream (IVM 1%) or vehicle once daily for 12 weeks were conducted in subjects with moderate to severe PPR. Efficacy assessments were Investigator's Global Assessment (IGA) of disease severity and inflammatory lesion counts. Safety assessments included incidence of adverse events (AEs) and local tolerance parameters. Subjects evaluated their rosacea and completed satisfaction and quality of life (QoL) questionnaires.
RESULTS: In both studies, a greater proportion of subjects in the IVM 1% group achieved treatment success (IGA "clear" or "almost clear"): 38.4% and 40.1% vs 11.6% and 18.8% for vehicle (both P<.001), respectively. Ivermectin was superior to vehicle in terms of reduction from baseline in inflammatory lesion counts (76.0% and 75.0% vs 50.0% for both vehicle groups, respectively). For all endpoints, starting at week 4 and continuing through week 12, IVM 1% was statistically significantly superior (P<.001). Fewer subjects treated by IVM 1% reported dermatologic AEs, and a higher proportion of subjects were observed to have no skin dryness or itching compared to vehicle. Significantly more subjects receiving IVM 1% reported having an "excellent" or "good" improvement, along with an improved QoL.
CONCLUSION: Ivermectin 1% cream was effective and safe in treating inflammatory lesions of papulopustular rosacea.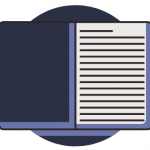 Long-Term Safety of Ivermectin 1% Cream vs Azelaic Acid 15% Gel in Treating Inflammatory Lesions of Rosacea: Results of Two 40-Week Controlled, Investigator-Blinded Trials
Papulopustular rosacea (PPR) is characterized by facial erythema and inflammatory lesions believed to be primarily caused by dysregulation of the innate immune system. More recent evidence also suggests that Demodex folliculorum mites may contribute to the etiology of PPR. Ivermectin (IVM) 1% cream is a novel topical treatment developed to treat PPR. Two phase 3 trials have demonstrated that IVM 1% cream was significantly better than vehicle at investigator global assessment (IGA) success rate and lesion reductions and that it was safe and well tolerated. Two 40-week extension studies of those trials were conducted to assess the long-term safety of IVM 1% cream vs azelaic acid (AzA) 15% gel. Subjects originally treated with IVM 1% continued on IVM 1% and those originally treated with vehicle switched to AzA 15% gel. IVM 1% cream was safe throughout the study with a lower incidence of related adverse events (AEs) compared to AzA 15% gel. No subjects in the IVM 1% cream group discontinued either study due to a related AE. IVM 1% also continued to be efficacious during the 40-week extension studies as the percentage of subjects with IGA scores of clear or almost clear was higher at the end of the study compared to baseline. The results of these 40-week extension studies support the use of IVM 1% cream as a long-term therapy for PPR as IVM 1% cream was shown to be safe and effective for up to 52 weeks of total treatment.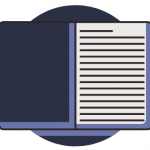 Treatment of Rosacea With Concomitant Use of Topical Ivermectin 1% Cream and Brimonidine 0.33% Gel: A Randomized, Vehicle-controlled Study
BACKGROUND: There is currently a lack of data on the simultaneous treatment of different features of rosacea. Individually, ivermectin 1% (IVM) cream and brimonidine 0.33% (BR) gel have demonstrated efficacy on inflammatory lesions and persistent erythema, respectively.
OBJECTIVE: To evaluate the efficacy, safety, patient satisfaction, and optimal timing of administration of IVM associated with BR (IVM+BR) versus their vehicles in rosacea (investigator global assessment [IGA] ≥3).
METHODS: Multicenter, randomized, double-blind study including subjects with rosacea characterized by moderate to severe persistent erythema and inflammatory lesions. The active treatment group included the IVM+BR/12 weeks subgroup (once-daily BR and once-daily IVM for 12 weeks), and the IVM+BR/8 weeks subgroup (once-daily BR vehicle for 4 weeks followed by once-daily BR for the remaining 8 weeks and once-daily IVM for 12 weeks). The vehicle group received once-daily BR vehicle and once-daily IVM vehicle for 12 weeks.
RESULTS: The association showed superior efficacy (IGA success [clear/almost clear]) for erythema and inflammatory lesions in the total active group (combined active subgroups) compared to vehicle (55.8% vs. 36.8%, P=0.007) at week 12. The success rate increased from 32.7% to 61.2% at hour 0 and hour 3, respectively, in the IVM+BR/12 weeks subgroup, and from 28.3% to 50% in the IVM+BR/8 weeks subgroup. Reductions in erythema and inflammatory lesion counts confirmed the additive effect of BR to IVM treatment. Subjects reported greater improvement in the active subgroups than in the vehicle group, and similar rates for facial appearance satisfaction after the first 4 weeks of treatment in both active subgroups. All groups showed similar tolerability profiles.
CONCLUSION: Concomitant administration of IVM cream with BR gel demonstrated good efficacy and safety, endorsing the comprehensive approach to this complex disease. Early introduction of BR, along with a complete daily skin care regimen may accelerate treatment success without impairing tolerability.
Did you enjoy this therapeutic cheat sheet? Find more here.