Pruritus, whether related to inflammatory skin conditions or systemic disease, can be debilitating for patients. In order to improve quality of life for patients suffering from severe pruritus, dermatologists often resort to off-label use of systemic medications. In this month's installment of our Therapeutic Cheat Sheet Series, we will discuss use of naltrexone for treatment of pruritus.
Naltrexone Therapeutic Cheat Sheet
Compiled by: Adrianna Gonzalez M, Reviewed by: Adam Friedman MD
TRADE NAME
MECHANISM OF ACTION
Naltrexone is a long-acting opioid receptor antagonist that competitively binds to μ, κ, δ opioid receptors. In high doses (50mg daily), naltrexone is continuously bound to receptors. However, with low dose naltrexone (LDN) (1.5-5mg daily), receptors are bound intermittently at 2-6 hour intervals leading to a compensatory increase in endorphins, opioid growth factors and expression of μ receptors and δ receptors1
It is believed to exert antipruritic effects by binding directly to opioid receptors in the skin and binding antagonistically to spinal cord dorsal horn neurons responsible for the perception of itch. This interaction blocks mast cells, basophils and IgE mediated histamine release2
While high dose naltrexone is pro-inflammatory, LDN has anti-inflammatory effects by acting as a toll-like receptor 4 antagonist, which in turn leads to decreased TNF-a, interleukin-6 and nitric oxide1
FDA APPROVED USES
Opioid use disorder
Alcohol use disorder
OFF-LABEL USES IN DERMATOLOGY
Hailey-Hailey (LDN)
Lichen planopilaris (LDN)
Guttate psoriasis (LDN)
Scleroderma (LDN)
Cholestatic pruritus
Aquagenic pruritus
Burn injury-associated pruritus
Uremic pruritus
DERMATOLOGIC DOSING
Pruritus associated with systemic disease, including uremic pruritus and cholestatic pruritus: 50mg daily3-7
Pruritus associated with atopic dermatitis: 25-50mg daily8,9 or naltrexone 1% cream at least twice daily10
Pruritus associated with burn injuries: 50-100mg daily
Hailey-Hailey: 1.5-4.5mg daily11,12
Lichen planopilaris: 3mg daily13
Aquagenic pruritus: 25mg daily for 3 months, then every other day indefinitely14
Scleroderma: 2-4.5mg at bedtime15
Guttate psoriasis: 4.5mg daily16
SIDE EFFECTS
Abdominal cramps
Nausea
Arthralgias/myalgias
Headache
Sleep disturbances
Fatigue
Anxiety
Hepatotoxicity has been reported in patients treated for alcohol use disorder, however this risk is very low1
Dizziness
Paradoxical exacerbation of pruritus after long-term treatment with naltrexone has been reported when used for cutaneous mycosis fungoides, xerosis cutis and prurigo nodularis4
 CONTRAINDICATIONS
LAB MONITORING
Although the risk of the risk of hepatotoxicity is very low, baseline liver function tests with repeat testing at 8-12 weeks should be considered
PREGNANCY
CLICK ON THE IMAGE BELOW TO DOWNLOAD YOUR THERAPEUTIC CHEAT SHEET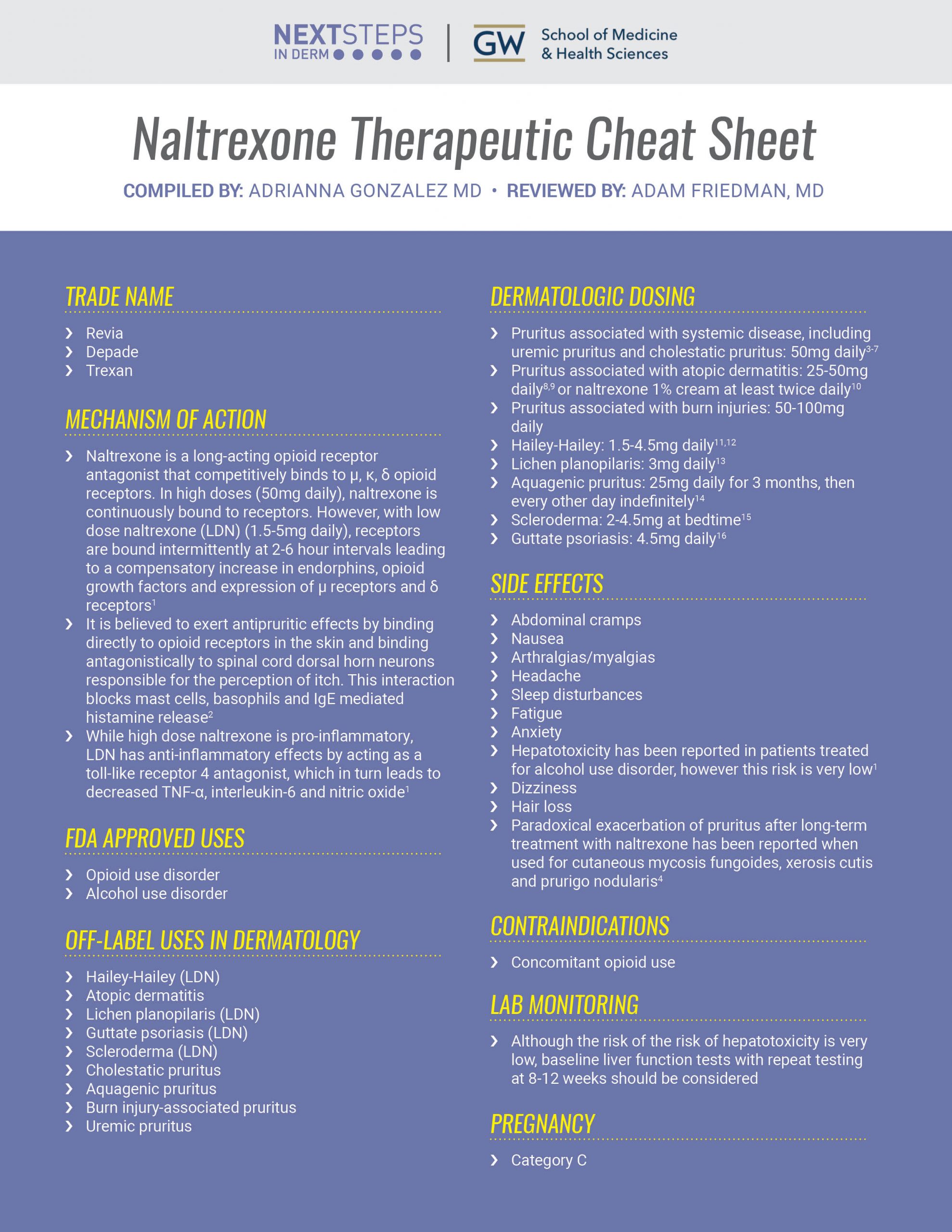 Naltrexone is increasingly being used off-label for various dermatologic disorders due to its antipruritic and anti-inflammatory properties. It is generally well tolerated and therefore a safe and efficacious alternative in our therapeutic arsenal.
Further Reading on Naltrexone Use in Dermatology
If you would like to read more about naltrexone use in dermatology, check out the following articles published in the Journal of Drugs in Dermatology:
ABSTRACT
Low-dose naltrexone (LDN) has been successfully studied as an immunomodulatory and anti-inflammatory therapy in a wide range of conditions including Crohn's disease, fibromyalgia, major depressive disorder, cancer, chronic regional pain syndrome, Charcot-Marie-Tooth, and multiple sclerosis.1-5 Recently, off label LDN has been shown to improve dermatologic conditions such as systemic sclerosis, Hailey-Hailey Disease, lichen planopilaris, and guttate psoriasis.6-9 In this article, we examine the existing evidence for use of LDN in skin disease and discuss its potential application in the treatment of atopic dermatitis (AD). Read the full article here.
J Drugs Dermatol. 2019;18(3):235-238.
ABSTRACT
Lichen planopilaris (LPP) is a variant of lichen planus that affects the scalp causing scarring hair loss. Patients also frequently experience symptoms of scalp itch, pain, and burning. To date, there are no long-term remittive nor curative therapies available. Low-dose naltrexone has anti-inflammatory properties and has recently been described in the context of treating autoimmune conditions. This retrospective medical record review describes four LPP patients treated with low-dose (3 milligrams per day) naltrexone. This medication provided benefit in these four patients including reduction in symptoms of pruritus, clinical evidence of inflammation of the scalp, and disease progression. All patients tolerated naltrexone without adverse effects. This is the first case series demonstrating the beneficial effects of low-dose naltrexone for patients with LPP. This medication was well-tolerated by the patients and is cost-effective. Read the full article here.
J Drugs Dermatol. 2017;16(11):1140-1142.
References
Lee B, Elston DM. The uses of naltrexone in dermatologic conditions. J Am Acad Dermatol. 2019;80(6):1746-1752.
Ekelem C, Juhasz M, Khera P, Mesinkovska NA. Utility of Naltrexone Treatment for Chronic Inflammatory Dermatologic Conditions: A Systematic Review. JAMA Dermatol. 2019;155(2):229-236.
Lee J, Shin JU, Noh S, Park CO, Lee KH. Clinical Efficacy and Safety of Naltrexone Combination Therapy in Older Patients with Severe Pruritus. Ann Dermatol. 2016;28(2):159-163.
Metze D, Reimann S, Beissert S, Luger T. Efficacy and safety of naltrexone, an oral opiate receptor antagonist, in the treatment of pruritus in internal and dermatological diseases. J Am Acad Dermatol. 1999;41(4):533-539.
Terg R, Coronel E, Sorda J, Munoz AE, Findor J. Efficacy and safety of oral naltrexone treatment for pruritus of cholestasis, a crossover, double blind, placebo-controlled study. J Hepatol. 2002;37(6):717-722.
Chang Y, Golkar L. The use of naltrexone in the management of severe generalized pruritus in biliary atresia: report of a case. Pediatr Dermatol. 2008;25(3):403-404.
Peer G, Kivity S, Agami O, et al. Randomised crossover trial of naltrexone in uraemic pruritus. Lancet. 1996;348(9041):1552-1554.
Heyer G, Groene D, Martus P. Efficacy of naltrexone on acetylcholine-induced alloknesis in atopic eczema. Exp Dermatol. 2002;11(5):448-455.
Malekzad F, Arbabi M, Mohtasham N, et al. Efficacy of oral naltrexone on pruritus in atopic eczema: a double-blind, placebo-controlled study. J Eur Acad Dermatol Venereol. 2009;23(8):948-950.
Bigliardi PL, Stammer H, Jost G, Rufli T, Buchner S, Bigliardi-Qi M. Treatment of pruritus with topically applied opiate receptor antagonist. J Am Acad Dermatol. 2007;56(6):979-988.
Albers LN, Arbiser JL, Feldman RJ. Treatment of Hailey-Hailey Disease With Low-Dose Naltrexone. JAMA Dermatol. 2017;153(10):1018-1020.
Ibrahim O, Hogan SR, Vij A, Fernandez AP. Low-Dose Naltrexone Treatment of Familial Benign Pemphigus (Hailey-Hailey Disease). JAMA Dermatol. 2017;153(10):1015-1017.
Strazzulla LC, Avila L, Lo Sicco K, Shapiro J. Novel Treatment Using Low-Dose Naltrexone for Lichen Planopilaris. J Drugs Dermatol. 2017;16(11):1140-1142.
Ingber S, Cohen PD. Successful treatment of refractory aquagenic pruritus with naltrexone. J Cutan Med Surg. 2005;9(5):215-216.
Frech T, Novak K, Revelo MP, et al. Low-dose naltrexone for pruritus in systemic sclerosis. Int J Rheumatol. 2011;2011:804296.
Muller G, Grieshaber R, Talley JF, Riepl M, Fellows D. Compounded Low-dose Naltrexone for the Treatment of Guttate Psoriasis: A Case Report. Int J Pharm Compd. 2018;22(4):270-278.
Did you enjoy this therapeutic cheat sheet? You can find more here.