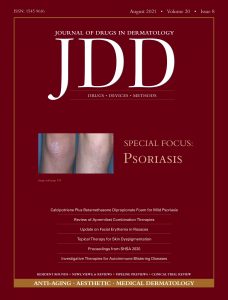 With a special focus on psoriasis, the August issue of the Journal of Drugs in Dermatology features an outstanding editorial line-up with articles, features, and case reports on topics ranging from antihistamines in psoriasis, facial erythema in rosacea, management of AKs, to herpes zoster following COVID-19 vaccination, cutaneous angiosarcoma of the scalp, and everything in between! Straight from the JDD Editor's desk, we share this month's issue highlights:
The efficacy of Cal/BD foam in patients with mild psoriasis is assessed in Calcipotriene Plus Betamethasone Dipropionate Foam for Mild Psoriasis: Pooled Results from Three Randomized Trials
Fixed-Combination Halobetasol Propionate/Tazarotene Lotion for Psoriasis in Patients With 3%–5% Affected Body Surface Area was evaluated in two phase 3, multicenter, 8-week studies.
Simple dosing schedule with mild side effect profile makes a practical option for patients as combination therapy in Review of Apremilast Combination Therapies in the Treatment of Moderate to Severe Psoriasis
Antihistamines in Psoriasis focuses on the role of antihistamines in the management of itch in psoriasis.
The main discussion points from the National Rosacea Society (NRS) roundtable discussion on facial erythema are summarized in Update on Facial Erythema in Rosacea 
Results demonstrate the ability to achieve improvements in skin pigmentation in Clinical Evidence of Cell-Targeted Topical Therapy for Treating Skin Dyspigmentation 
Experts from around the world discuss the most recent advances in the study of HS in Proceedings Report of the Fifth Symposium on Hidradenitis Suppurativa Advances (SHSA) 2020
Authors aim to investigate the incidence and clinical characteristics of lesions initially diagnosed as superficial BCC in Characteristics of Superficial Basal Cell Carcinomas Containing More Aggressive Subtypes on Final Histopathologic Diagnosis
Long-term efficacy, safety, and quality of life in patients with baseline scalp, nail, or palmoplantar psoriasis were assessed in Sustained High Efficacy and Favorable Safety Over Five Years in Patients With Burdensome Psoriasis (UNCOVER-1/UNCOVER-2)
Advances and Considerations in the Management of Actinic Keratosis: An Expert Consensus Panel Report synthesizes the available and most current literature into overarching principles to provide guidance on the management of AKs. 
An Extensive Presentation of Cutaneous Angiosarcoma provides an important illustration of extensive cutaneous angiosarcoma of the scalp and its potential to rapidly advance
Dermatologists should familiarize themselves with potential cutaneous adverse events associated with COVID-19 vaccination in Herpes Zoster Following COVID-19 Vaccination
Favorable clinical outcomes support further evaluation in Combining Panitumumab With Anti-PD-1 Antibody in Cutaneous Squamous Cell Carcinoma of the Head and Neck After Inadequate Response to Anti-PD-1 Antibody Alone
Dedicated education during fellowship may represent an important factor for growth in the utilization of IHC in Immunohistochemistry Utilization in Medicare Beneficiaries by Mohs Surgeons from 2012-2017
Hair Care Professionals as Community Health Partners in Detection and Management of Alopecia: A Pilot Survey Study supports the need for integrated dermatologic training in cosmetology schools  
Efficacy of Topical Herbal Anti-inflammatory Treatment (HAT1) for Treating Psoriasis: An Investigator-Initiated Open Label Study showed significant reduction in disease burden and symptom relief in mild psoriasis
COVID-19 in Individuals Treated With Long-Term Hydroxychloroquine: A Propensity Score-Matched Analysis of Cicatricial Alopecia Patients aims to investigate if HCQ therapy confers protection against COVID-19 infection.
Did you enjoy this JDD Highlights article? Find more here.